Services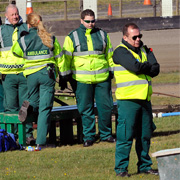 We are a private ambulance company offering high quality event medical cover at affordable and competitive rates. We have several fully equipped emergency vehicles to cover your event alongside professionally trained staff to deal with any medical situation efficiently and administer the appropriate patient care. We can transport a casualty to hospital if required with blue lights if necessary and are fully insured to do so.
Alternatively if you require us to stay on site at your event we can work alongside the emergency services to transport the casualty to hospital using local NHS services. We can also provide first aid training for individuals or organisations in association with First Pulse and offer a wide range of courses to suit your needs.
We can provide advice on the requirements needed for event medical cover in accordance with current HSE standards and can help in your risk assessment for your event. All of our vehicles are highly maintained and identifiable with Peak Medicare, Event Medical Cover and are of course fully insured for patient transportation using blue lights as required.