First Aid Training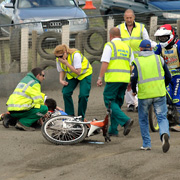 Peak Medicare in association with First Pulse can offer a wide variety of training courses to suit your needs. Our trainers are fully qualified paramedics experienced in all aspects of first aid. First Pulse have several years experience teaching in a wide range of first aid courses including bespoke packages and have joined together with Peak Medicare to offer you high quality first aid training at competitive rates.
We can offer a wide range of courses including appointed person, emergency first aid at work, basic life support, resuscitation, AED and medical gases alongside bespoke first aid training to suit your needs. If you have a group of people requiring first aid training then we can offer in-company training on any of our courses.
The benefits of in-company training are cost-effective, no travel costs for employees, familiar learning environment and the flexibility to choose a date suitable for you. If you are interested in any first aid training we can offer please contact us with your requirements for more details.