About Us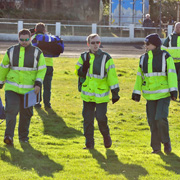 Peak Medicare are a private ambulance company situated in Derbyshire who provide first class event medical cover and first aid training mainly across the North of England. We are currently members of the association of first aiders and our staff and vehicles are fully insured as you would expect. We have several front line ambulances available to cover your event or to transport a patient between home and hospital. All of our staff are fully qualified and have had experience of a wide range of events including motorsports, equestrianism and some television/film work.
If you are an event organiser we can help you to organise the right event medical cover at competitive rates. Our staff are issued with a company uniform which must be worn at all events and include state registered paramedics, ambulance technicians and general first aiders.
We can advise how much medical provision you will need for your event in line with current HSE legislation to ensure you have the right amount of cover. Peak Medicare in association with First Pulse also offer comprehensive first aid training to individuals or companies. First aid training includes appointed persons, emergency first aid at work and bespoke courses designed to your needs.
We are currently working hard to expand our business and diversify into other areas and guarantee to offer a first rate service at competitive rates.